Aluminum Extrusion Press
Product names: Aluminum extrusion press, Aluminium profile extrusion press, aluminum extrusion press, aluminum profile extrusion press, aluminium profile extruder, aluminum profile extruder, aluminunm section extrusion press, aluminium section extrusion press, extruded aluminum profile, extruded aluminium profile, aluminum profile extrusion machine, aluminium extruded for window and door, China aluminum extrusion press, aluminium profile press, aluminum profile press, aluminium extrusions, aluminum extrusion, aluminum profile extruding machine, aluminium profile producing machine.

The Aluminum extrusion press description:
Our aluminum extrusion press is improved through redesigning the structure and replacing important components, the improvements result in a better appearance, better product quality, and easier operation. The related indexes of extruders are comparable to Taiwan high quality extruders. Meanwhile, these series extruders adopt a number of advanced technologies, stable and reliable performance, safety, easy maintenance.
The aluminum extrusion presses which we supply are solid overall structure, stable and reliable performance, sound durability.
The firm and stable enough of extruder can resist the fatigue of long time running (the aluminum extrusion press is running day and night at China) and prolong the lifespan of machine.

The feature of our aluminum extrusion press
1. Hydraulic oil pipe and the structure layout is reasonable, if will be convenience for aluminum extrusion press to maintian.
2. The main cylinder steel material can be selected cast steel or forged steel, but large model of aluminum extrusion press, we reommend to use forged steel. The forged steel not only is good for withstand the high extrusion pressure, but also is good for shippment cause the compact structure.
3. The plunger pump can be selected Lihao of China or Rexroth of Germany.
4. The hydraulic part can be selected Taiwan Jeou Gang or Rexroth of Germany
5. Manual or automatic operation is provided. Sectional speed or constant speed is optional.
6. Automatic protection is applied. The electrical part can be selected the touch screen.
7. Mitsubishi programmable controller and pressure transmitter of Swiss are adopted for hard-core.
8. Dummy block can be chosen for Fixed dummy block or loose dummy block with the no dummy blcok or anti-put dummy block protective device.

All of above ensure low trouble shooting rate and high profile finsied rate and high safety rate of the aluminum extrusion press

We have rich models of aluminum extrusion press from 500T to 300T, so how to pick up a suitable model of Aluminium extrusion press?
Welcome to visit our tips:
http://www.cnmetech.com/html_news/How-to-pick-up-a-suitable-model-of-Aluminium-extrusion-press-20.html


If you are the new at the aluminium profile extrusion line, we can supply the professional suggestions for aluminum extrusion press model selection, the guide and plant layout to help you build your new aluminium extrusion production line.


The main technical data of Aluminum Extrusion Press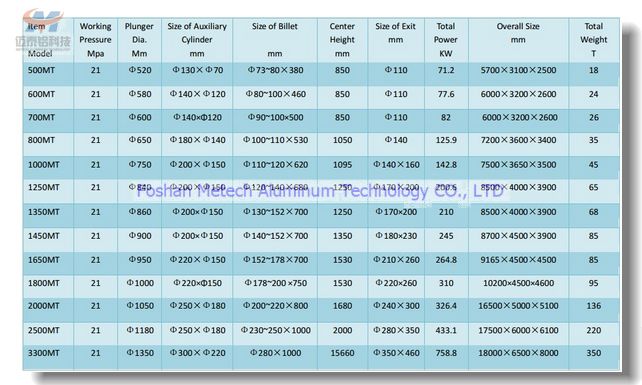 Welcome to visit our video of aluminum extrusion press in running operation:

http://youtu.be/0ZMMaSGSueU for 800T aluminum extrusion press installation at Eypgt
http://youtu.be/K_QlV2HplXQ for 1800T aluminum extrusion press installation at Eypgt
http://youtu.be/9qCLvNWVm38 Aluminum Extrusion press-Run out saw-Puller
http://youtu.be/W73e8hGQJeo 600T Aluminum extrusion press for industrial material
http://youtu.be/XKbeM-rnVEE 1400T aluminum extrusion press for industrial material


We are professional supplier of aluminum extrusion equipment, We can offer you professional suggestions and technical consultation for the machine selection, plant design and product manufacture. For much more details about the Aluminum Extrusion Press, such as the price delivery time, quality service, operational manual about the Aluminum Extrusion Press, welcome email to judyalumetech@hotmail.com



The pictues of Aluminum Extrusion Press