500T Aluminium extrusion press for small and thin profiles

Product names: small aluminium extrusion press, aluminum extrusion press, China aluminum extrusion press, Foshan aluminum extrusion press, aluminium profile extrusion press , aluminium tile trim extrusion press, aluminum profile extrusions, aluminum extrusions, aluminium exturding press, aluminium profile producing machine, aluminium profile press, aluminium section extrusion press, aluminium extrude machine, aluminium profile extruder.
Mtech Aluminum technology is a profession to produce 500T aluminium extrusion press for making the small and thin profile. For example, aluminium tile trim, wooden floor trim, stairs edge trim, door edge trim, and small profile for cupboard, cabinet, furniture and so on. Because these profiles function is decorative, so the profile requests small and thin. But making these profiles require the press with high technology. If you use the big press and unsuitable pressure, the aluminum is easy to leak to the container or hard to get to shape. At the same time, big aluminum extrusion press is not good for energy saving.

Our 500 T aluminium extrusion press is specializing in the production of small and thin profile. We select the special pump, valve and electrical equipment and set the special pressure to make small and thin profile.
The characteristic is easy to operation, low failure, energy saving and high yield.

The technical data of 500T aluminum extrusion press .
1. Specification for aluminum billet: Φ 73~80 mm × 380 mm
2. Exit size of profile: Φ100mm×L120mm
3. Specification for die base mold cavity: Φ 178 mm × 204 mm
4. Overall size: 5500mm×2300mm×2100 mm
5. Total power: 71 KW
6. Total weight: About 18 Tons
7. Hydraulic oil volume:1600 L (Viscosity : 300SUS AT 37℃)

The technical of other size of aluminium extrusion press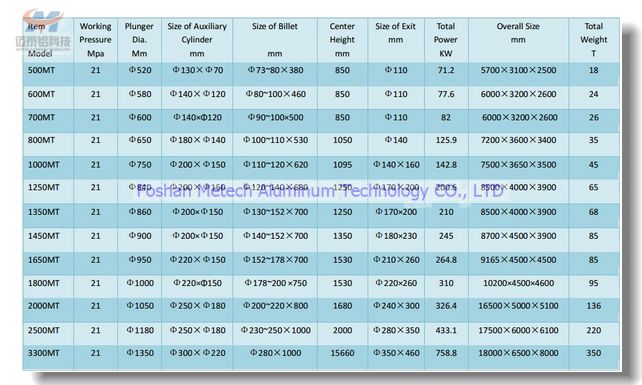 Welcome to visit our video of 500T aluminium extrusion press in running operation:
http://youtu.be/J3mJDwXiv7w old 500T press has used more than one year.
http://youtu.be/f62c1GD3W40 new 500T press is used at the first day.



For much more details about the 500T aluminium extrusion press , such as the price delivery time, quality service, operational manual about the500T aluminium extrusion press, welcome email to info@cnmetech.com


Pictures of 500T aluminium extrusion press