Aluminum Dross Processing Machine
Aluminum Dross Processing Machine
Author : Dross Processor Date : 2012-4-14 16:00:04
Aluminum Dross Processing Machine
Aluminum Dross Processing Machine, or called Aluminum Dross Processor,Aluminium Dross Recovery
Machine, Aluminum Dross Separator,Aluminium Dross Recycling Machine, Aluminum Dross Processing
Press,Ash Separator,Dross Recycling Machine etc. Aluminum Dross Processing Machine is a machine that
adopts advanced technology, which is mainly used to separate the aluminum from the dross, separate
the molten aluminum from the aluminum dross, to get the molten pure aluminum for second use.

Foshan Metech Aluminum Technology CO.,LTD is the professional and experienced Aluminum Dross
Processing Machine,Cold Dross Separating Machine Manufacturer and Exporter.

1. Processing Machine for hot aluminum dross , for small processing capacity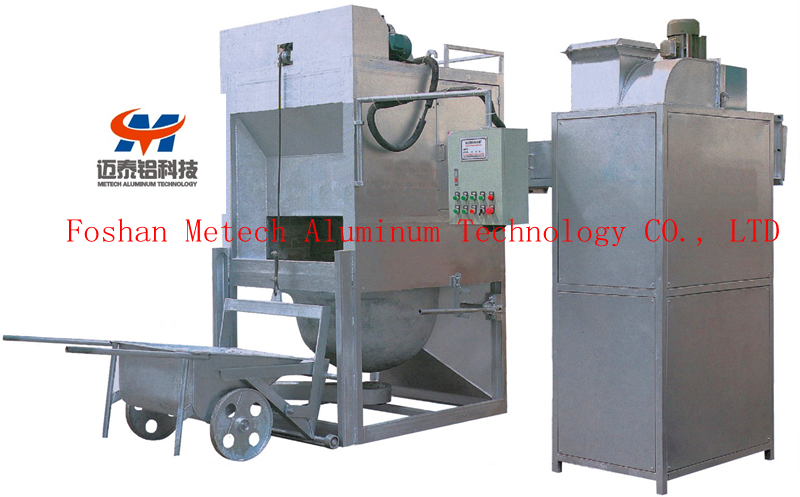 Features of the Aluminum Dross Processing Machine:
1. No need for any fuel in the whole process
2. With dirt and smoke ventilation equipment.
3. Automatic mechanical operation, no harmful to the operator's health.
4. High efficiency for recycling rate (90% aluminum from the dross),short working time
(10-12 minutes can process 100kgs-500kgs aluminum and ashes)
2.
Processing Machine for cold aluminium dross or mass capacity hot dross

Rotary Tilting Furnace+Cold Dross Barrel