Hot Aluminium Dross Processing Machine (Aluminum Recovery System)
Recover Aluminium, Reuse residual dross, Reduce waste material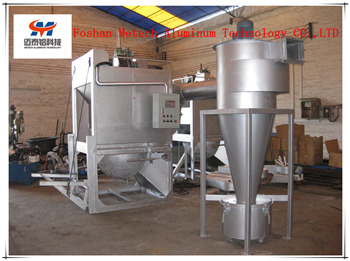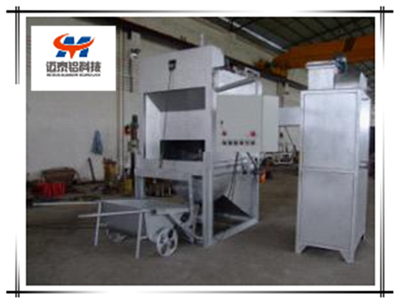 The worldwide aluminium industry produces nearly millions tonnes of furnace waste (hot aluminum dross)
each year. Known as dross, the residual waste material is produced from any process in which aluminium
is melted, and is left behind after conventional recycling has been carried out.

The traditional dross processing technique involves the use of large quantities of salt to separate the
aluminium from the oxides, but the salt remains trapped in the residue. Disposal of this residue in a
landfill can created problems because the salt leaches out into the surrounding soil. The salt can be
removed from the residue, but the process involves significant expense.
However, dross is not a waste. Apart from oxides, dross is largely free aluminium (up to 80 percent by
weight) making it a valuable commodity. This dross contains about 50% aluminium metal or more, but
to collect the aluminium metal from the dross is a key challenge yet a necessity in saving resources,
reducing costs and improving a firm's profit ratio.
FOSHAN METECH ALUMINUM TECHNOLOGY CO.,LTD recently developed and patented an advanced
technique for retrieving the aluminium from the material. It even allows full recovery and easy
valorization of the nonmetallic part of the dross. The new Hot Aluminum Dross Processing Machine
(Aluminum recovery system) with advanced treatment method makes it economically viable to treat
residual waste left after conventional recycling, offering cost savings and environmental benefits.
Advantages of Hot Aluminum Dross Processing Machine(Aluminum Recovery System):

1. The Hot Aluminum Dross Processing Machine (Aluminium Recovery System) can reclaim more than 90%
of the aluminium metal from the dross and significantly improve the aluminium collection ratio, when
compared with conventional methods, The great advantage of this system is based all in its remarkable
aluminium reclamation ratio, which in turn provides a quick Return on Investment soon after its installation.
2. Its unique design offers excellent operability and high durability. According to actual users, both domestic
and abroad, the system has yet to malfunction, which attests its reputation for long-lasting, efficient operation.
3. The Aluminum Recovery System processes and recovers metal at highspeed and extracts the aluminium
with only a few minutes needed for each processing cycle. Material costs are significantly decreased
4. The Hot Aluminum Dross Processing Machine (Aluminium Recovery System) is equipped with dust collector unit,
which collects the dross waste while it is in the thermal dross processing/aluminium recovery stage. This
prevents any harmful impact from dross dust diffusion on the surrounding environment and health of nearby
residents. The residual dross can be reused as heat insulation agents or as deoxidizers, which are needed
in iron manufacturing, and such reuse of byproducts especially sets the Hot Aluminum Dross Processing Machine
apart from conventional dross processing methods in contributing to environmental preservation and sustainable
use of resources.
5. Users can select the range of equipment they wish to use, such as the entire system or the dross processing
aluminium recovery machine alone, which has HL-900, 1100, 1300 types ( can be tailor made as per customer) developed principally for aluminium diecast manufacturers; the Hot Aluminum Dross Processing Machine (Aluminum
Recovery System ) has an excellent reputation due to its compact size yet high efficiency and superior operability.
Application of the Hot Aluminum Dross Processing Machine (Aluminum Recovery System
)
1. Aluminium and Aluminium alloy manufacturers (Aluminum ingot plant,aluminum alloy rod mill ,aluminum billets factory)
2. Those who use Aluminium and/or Aluminium alloy to manufacture products ( i.e. die cast factories)
3. Factories that melt down Aluminium recycle materials to make Aluminium alloy
4. Other Aluminium industry-concerned plants (i.e. who collect and/or recycle Aluminium dross)